We are unique…
We take you through the 12 steps while in our program…
Torah and the Twelve Steps, Inc is a spiritually based action oriented drug and alcohol rehab which integrates the spirituality within Torah Judaism with the Twelve Step model to effectively treat the underlying cause of addiction. Our adult male and female primary program with extended care is open to all persons regardless of religious background or faith who would like to experience genuine Biblical based teachings while on their spiritual journey. Our program provides an inner sense of wholeness, pleasure and purposeful direction that replaces the subjective need for "filling the void" whereby the desire for the substance is significantly if not entirely removed.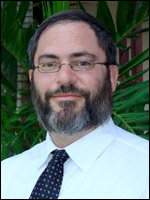 Rabbi Israel Burns, MS, RMHCI has practiced extensively as a therapist with dual-diagnosis. He has spent over thirteen years in full-time advanced theological studies both in Miami and Israel. A happily married family man, he holds a Masters Degree in Substance Abuse Counseling from Nova University. Rabbi Burns has been the spiritual director of several leading treatment programs for Substance Abuse and Eating Disorders. UPON SEEING THE EXTREME RELAPSE RATES IN SECULAR TREATMENT HE FOUNDED THIS FAITH BASED PROGRAM WITH A GENUINE 12 STEP FOUNDATION, REJECTING THE SECULAR RELAPSE PREVENTION MODEL. With thirty three years of direct intervention in the lives of addicts, Rabbi Israel Burns works intensively with each individual to identify exactly what is needed to initiate and maintain spiritual growth. He will specify the source of past treatment failures or personal attempts at recovery within the first week.
Relapse is NOT a part of recovery…
The concept that addiction is a relapsing medical condition is often utilized as an excuse for treatment failures by assuming a certain level of "randomness" in the relapse. To blame a "relapsing disease" takes away responsibility both from the treatment program and the client to learn to make needed changes. Relapse is caused by a lack of spiritual development and we believe as providers of a spiritual solution we need to teach our clients that recovery is completely and directly dependent on the integrity of their spiritual program.
Mission Statement
Torah and the Twelve Steps, Inc provides faith based full day addiction recovery programs with 24/7 supervision in Kosher housing. It seeks through spiritual counseling and education to help Jewish communities to realize the dangers of assimilation and the treatment failures directly resulting from the medical model of addiction. We prove through objective evidence of our success that no secular treatment can be as effective as Torah with the Twelve Steps.